...chicken, ham, mushroom pie...
With a dish full of leftover chicken from yesterday's roast, I called my mum and asked what I could do with it. Waste not, want not. Never having cooked a pie before, she suggested why don't I give it go. Seeing as I had mushroom soup already and the chicken, why not do a chicken pie.
So here you have it. I don't have exact measurements for you and as this is not a food blog, I'm kinda just wining it here. Here goes...
Ingredients:
Can of mushroom soup (I had a standard cream of mushroom, nothing fancy)
Cooked pieces of chicken (obviously mine was from a roast, but you can probably get some chicken breasts, cook them, then slice into smaller pieces)
Chopped, sliced ham
Chopped, fresh mushrooms,
Garlic (I used roughly two cloves, but I really like garlic, so it depends on your taste)
Oxo cube (chicken flavoured)
Shortcrust pastry
Small/medium ceramic dish
Firstly I melted a small amount of butter in a pan with the crushed garlic. I then added my freshly chopped mushrooms, then my chopped ham. I had this on relatively medium heat as not to burn the food. Once that was ready, I added the chicken to warm it up. I turned the heat down at this point. I put a little bit of boiling water with a crushed Oxo cube to create a stock. Then added some salt and pepper.
Before this, I made sure my pastry was ready to go. I broke off enough that would cover the top of my dish. I rolled it out flat. Not to thin but not too thick, as it won't cook and be too 'gloopy' (technical term there).
So, once my filling was ready I added the canned soup and then poured the whole mixture into my dish and covered it with my pastry, creating a little bit of decoration with the leftover pieces of pastry. Whilst I was doing that, I made sure my oven was nice and hot. Our oven is super quick and hot, so I had the temp at just over 100 degrees Celsius. Again you'll need to adapt to your own situation.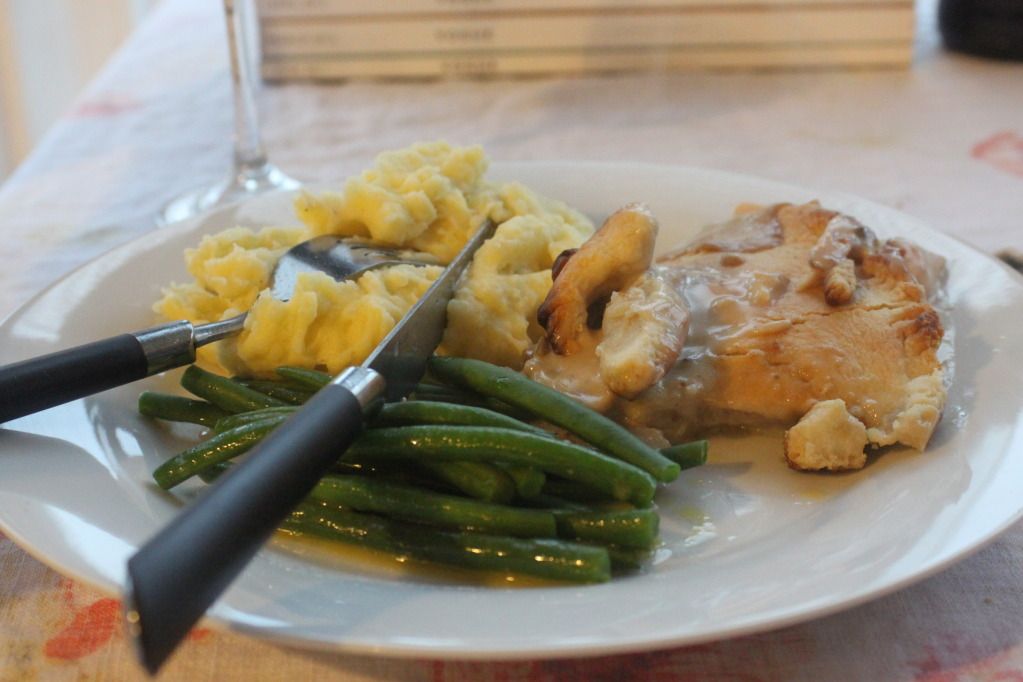 I left the pie to cook for 25-30 minutes, making sure it was piping hot. Add some mash and green beans, and you're good to go. Such a simple recipe that took 10 minutes to prepare and then 30 minutes to cook. It was yummy and deliciously scrumptious as you can tell from the pictures.
Well, I hope you enjoyed my take on a chicken pie, and if you've never made one feel a little bit more comfortable in giving it a go. It really was so easy and simple to make. Perfect way to end a pretty good weekend in my books.