...well, there is definitely an element of stupidity here, as working full time and then studying on top of that is a pretty suicidal thing to do. Trust me, I know. I am currently in this zone of not knowing where I left my last brain cell...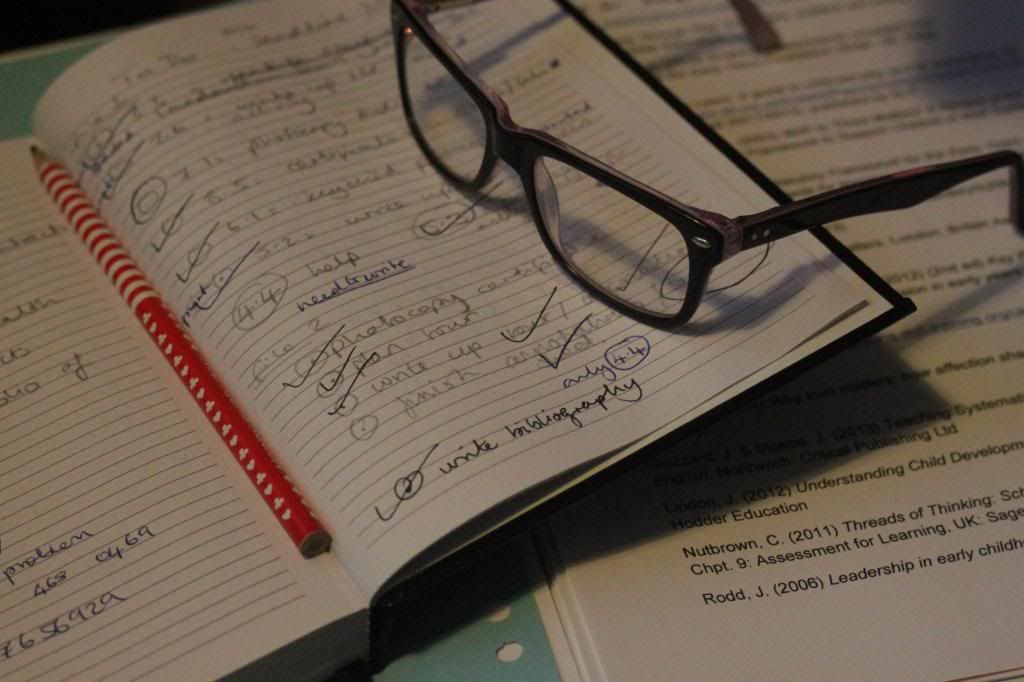 I love learning. Always have and always will. However, what I am in the process of doing now is working 40hr weeks, and then another 15hrs added on. This may not be actual suicide but it certainly hasn't meant much for social life. Not that I had one before this. Tragic but true.
September of last year, saw me embark on an intense 6 month course to become an Early Years teacher. It is a level 6, so degree equivalent, and has felt much harder than completing a 3 year course. Again take my word for it. When you're at university all you are doing is studying and maybe the occasional part-time hours of work to bump up your expenses. This is totally different to working full-time and then having to come home at 7, sit at a desk for the next two hrs writing or reading, or filling out summary sheets. Now, this course has taught me so much about my profession, and I spoke about my state of flux over the Christmas/New Year period and the unsureness of my future. I basically took two weeks off from studying to get my thoughts together and coming back into my course, seeing my tutor and starting back at work, really helped to clarify what I want in life. I know I am making the right decision to pursue childcare. What I mustn't forget is to take time for myself, do the things that inspire my creativity and just have fun with life.
So, here I am writing a post rather than opening my assignments and proof reading the hell out of them. I forgot what is what was like to write 10,000 words. I firmly believe if you get the opportunity to further you knowledge and understanding, to take it and go full steam ahead. Although these past few months have been stressful balancing workloads and commitments, I've learnt I am much more resilient than I initially thought. I have the capacity to achieve the things I feel I deserve. One thing I have loved the most was heading out to by a whole load of new stationary bits from notepads to pencil cases. How cute is the patterned one?
That's enough from me...