N.B. again my reviews of these books have not been sponsored by amazon or any other book seller. I have just used links to amazon as it was easiest.
Some more books reviews for you here. It's not my mission to read at least three a month, but it does seem to be a good, round, achievable number. I suppose I just want to read as much as I can before I start my studies (more on that later). And having the luxury to choose what I want to read rather than it being for a particular purpose. Reading for pleasure can be a very hard thing to come by. At the moment I am currently trying to soak up as much literature as I can.
For August I managed to squeeze in another piece of classical literature – Treasure Island – which I wish I had read when I was younger. One of my reviews this month is on a non-fiction book and is about a topic that I am very interested in at the moment.
So, lets get started: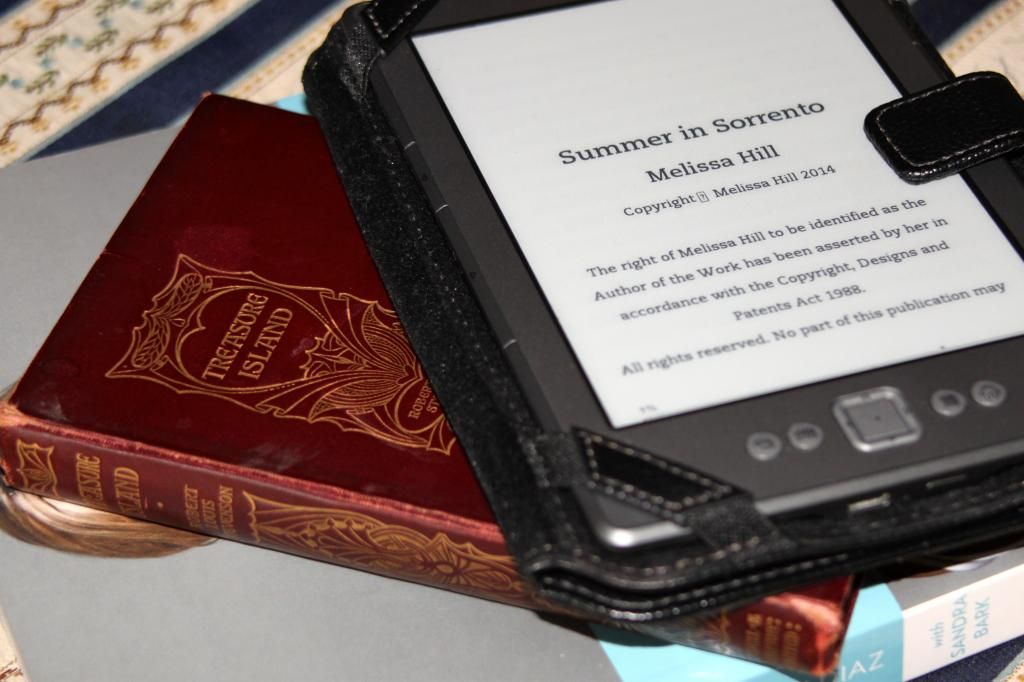 Treasure Island was such a pleasure to read. Really a feast for my imagination; a story full of swash-buckling adventure. Who doesn't love a story about pirates, buried treasure and some good old sword-fighting, gun-power action? As an adult reading a story written for a younger audience, I found it to be a thrilling and tense story, full of plot twists and turns that kept me wanting more. I sometimes found the language used a little tricky to follow, but I suppose that adds to the feel of the novel and the characters of the pirates. I think what I enjoyed most was that I was reading from an old of copy, and I love old books. I will collect them at random, sometimes snapping up some gems. This book had a wonderful illustration of the island which added to the mystery of the story. A great, fun read if you've got a few spare days and are not sure what you fancy.
Now, Summer in Sorrento was an impulse buy for my kindle as they had a few free deals on, and this caught my eye. I thought it looked and sounded like a cute, little summer read to get me through some of my nothing days. Well it truly was a marvelous little story. I didn't actually realize how short of a story it was. Its hard to tell the length of a book on a kindle but I gathered from the percentage mark it was a fairly compact book. Maybe a hundred pages or so. The story centered around a beautiful holiday home, in the countryside of Sorrento and featured a collection of characters that were searching for something more than their lives currently offered. What I enjoyed most was that it was not a taxing story or required a lot of concentration, which I love and need sometimes when reading. This did not, however, detract from the story, which flowed easily along and finished leaving me wanting more but knew the story had found its resolve.

Again, a perfect read for a nothing kind of day. I read this within two days.
…and finally, The Body Book by Cameron Diaz. I was, and still am pleasantly and happily surprised by this book, as it really is a wonderful, inspiring book about health, wellbeing and nutrition. I was not sure what to expect and thought it was going to be just another celebrity book talking about their lifestyle.

But how wrong I was. Cameron Diaz has gone to a lot of effort, and you can clearly hear her passion, to compile a book that really informs you about our bodies. How they work, what they need and how we can go about achieving the best possible lifestyle. I have taken a great interest in nutrition and understanding about what foods are and what they do to my body. I kind of got in on a whim, and have been dipping in and out of it for the past few months. It really is a helpful and informing book, especially if you want to know more about building a true and healthy, wholesome, nourishing life. She has spilt the book up into four sections and you can dip into any part of it. Everything is clearly explained and there are references to great sources of where she found her knowledge. I highly recommend this book…
xxx