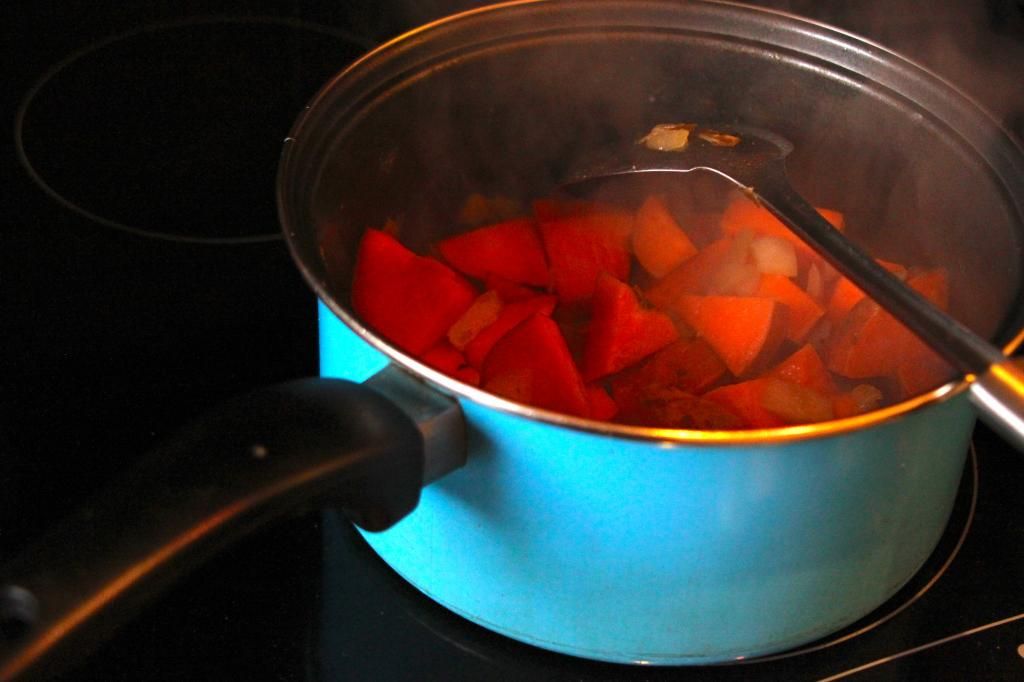 Continuing with my living healthy theme, and trying to be mindful of the kinds of food I eat, I thought I would do a little 'Here's what I cooked…Recipe' post.
Now, to be fair, I did take the original idea for this dish from my dear friend, who whipped this meal up from random things in the fridge and cardboard. The two main ingredients though were sweet potato and tin of chopped tomatoes. Other than that feel free to add in whatever you've got lying around. I made my version extra hot and spicy. Love having a good kick to my meal. If my nose ain't running then it ain't hot enough.
Here's what you'll need: (I rarely use measurements apart from in baking and I rarely do that)
One medium to large sweet potato – chopped into cubes
One small onion (red/white) – diced up
Tin of chopped tomatoes – 400grams should do it
Tin of red kidney beans – 400grams again
Handful of tinned sweetcorn (roughly 4/5 large tablespoons)
I used to paprika and chilli powder, chilli flakes, glove of garlic (thinly chopped) and 4/5 drops of Tabasco. Bit of ground black pepper and if you want some salt (I rarely use salt but do whatever floats your boat)
In a large pan heat up your oil (I use olive oil or sometimes coconut oil), then add your onions in. Once they have begun to brown off, add your chopped sweet potato and cook those up for about another 10/15 minutes on a medium to hot heat. If the potato is sticking a little, I add in a bit of water. Not a lot though. Once the potato has softened up. Add your tomatoes, kidney beans and sweetcorn (or what other items you have decided you'd like to use , such as peas, chick peas, peppers, mushrooms – go ahead and get creative). Season the stew/dish to your liking and then allow it to simmer away on a low heat, taking it up a notch if needed. I left mine cooking away for about another 15/20 minutes to really allow for the flavors to develop.

If you find that it is thickening up, add in warm water to get the consistency you like. I prefer mine on the thicker side.
Once ready, serve up either by itself with a nice crunchy bread roll, or in my case, I used one of these pre-cooked spelt dishes that you heat up in the microwave. And there you have it, a simple yet hearty meal. James whipped up some boiled potatoes as spelt doesn't really float his boat, ha! With these ingredients and the amount used, there will be plenty leftover for you to reuse when you don't have time to make something.