(Disclaimer: This post has not been sponsored in any way by amazon or any other book sellers)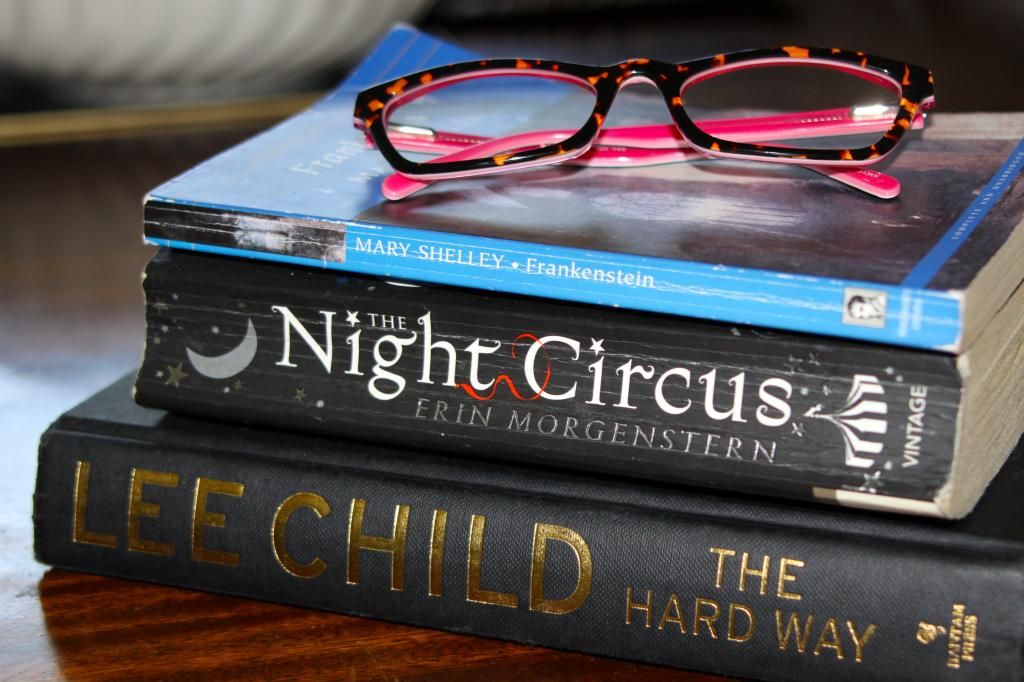 This is kind of new thing for me. I've reviewed products, gigs and sometimes places I've visited but never books. However, I love reading book reviews. Sometimes I'll read books thinking that it's something I have to do, like classical literature. What I find though is that I didn't really enjoy it but I value and appreciate for its worth. So reviews, for me, are a way to sift through books that I've heard about but am not too sure if it's for me. I especially enjoy reading Bee's reviews over on
Vivatramp
. She has a very clear, honest and simple way of critically evaluating a book from a personal yet objective point of view.
Now, I'm in no way suggesting my reviews will be as good as hers, but over the past couple of months I've read some really great books, in my opinion, and wanted to share my thoughts on them. So here goes: (click on the title which will take you to more reviews and images of the book).
Lee Child -
The Hard Way
Erin Morgenstern-
The Night Circus
Mary Shelley -
Frankenstein
Wow! Three books in just over one month. That is a record for me. Currently, I have a fair bit of time on my hands and reading has been taking up most of that time. I love it. All three of these books are very different and offer three dynamic and interesting story lines. Firstly, my most recent read - Lee Child's
The Hard Way
. James has been on at me to read a Child book since we've been going out. Finally I picked up a book James recommended and couldn't put it down from the very first page. I pretty much read it in one day. From what I've heard of Child's books, is that they are brutal and fast paced, involving lost of twists and turns. This book did not disappoint. A high intensity thriller, involving a kidnap and a man with no tongue. Well who wouldn't be hooked. I really liked how the chapters were short, and the sentences were concise, keeping in line with the fast paced plot line. As a newcomer to the Jack Reacher saga, this was a great introductory book to start with. I look forward to delving deeper into Reacher's world of action and violence.
Secondly, moving onto a completely different story -
The Night Circus
. Again this book captured my imagination and drew me into a world full a magic, mystery and mostly importantly love. Set in the 1800's this book captures a world full of wonder and illusion. I don't want to give too much away but this book is full of hidden treasures. Centred around a magnificent Circus, a deadly battle of power ensues where friends and foes are drawn into a dark game of illusion and deception. However, all is not as it seems and those outside the forces of Circus will play a role no one could foresee. Morgenstern writes in such an eloquent, descriptive manner that her words pour out of the pages and into your imagination. My friend recommended this to me to help get back into fiction and it completely re-ignited my love of literature.
And finally,
Frankenstein
. This has been on my 'to read' list for some time now. I thought better late than never. I have seen the Peter Cushing adaptation from Hammer horror and really liked the film; however, I had no idea whether it was a good adaptation because I hadn't read the book, or short novella. Well, I was pleasant surprised at how much I preferred the book rather than the film. Both completely different works of art. What grabbed me about Shelley's writing was that it was full of deep, dark thoughts about humanity and the nature of morality. Questioning what is good and what is evil. You are encouraged to think critically about the two protagonists and decide whether they are good or bad people. A fascinating fact I found out about Shelley was that she started piecing together this story from the age of 18 when she had a horrific nightmare that she couldn't forget. Because of this I read the book as if it were Shelley trying to make sense of what she saw in her dream. Grappling with the idea that a monster could be cruel and heartless yet justify his actions based on the principles of human nature. It is great story that pulls you into a dark, sinister world where your greatest fears have the possibility of becoming reality.
…
I hope you enjoyed reading some of my mini reviews and like I mentioned these are my own personal views not sponsored by anyone else. I have linked the titles of the book to the Amazon website where there are further reviews and images of the covers.
xxx